365 Life Lessons At 40 by Dr Zam (#1 Amazon Hot New Release)
$27.00
#1 Amazon Hot New Release
𝟑𝟔𝟓 𝐋𝐢𝐟𝐞 𝐋𝐞𝐬𝐬𝐨𝐧𝐬 𝐚𝐭 𝟒𝟎 by Dr Zam is the culmination of the author's work in human peak performance, with daily reflections on the day-to-day life, covering diverse issues, from spirituality, entrepreneurship, love, family, people, relationships, parenting, education, emotions, motivation and more!
"Wonderful book with great insights",

"Astoundingly refreshing"
5 Star-ratings on Amazon by verified customers

$5 from the sale of every book will go to a good cause! 'Life's Good!' is an initiative to help better the lives of the disadvantaged around the world, through different projects, from education, shelters, food and water, to families and livelihoods. Be part of this movement, and if you are a listener of The Dr Zam Show podcast, you can access the audiobook as a bonus, for a limited time only!
365 Life Lessons At 40
When Dr Zam turned 39 years old, he embarked on consolidating all the life lessons he had learnt in the past 40 years of his life, into daily life lessons, till he turned 40 years old. This book serves as a reminder to himself first. At the same time, he hopes the 365 life lessons would serve as daily reminders for us to get through life's toughest struggles and be thankful for life's greatest gifts.
And We have enjoined upon man, to his parents, good treatment. His mother carried him with hardship and gave birth to him with hardship, and his gestation and weaning [period] is thirty months. [He grows] until, when he reaches maturity and reaches [the age of] forty years, he says, "My Lord, enable me to be grateful for Your favour which You have bestowed upon me and upon my parents and to work righteousness of which You will approve and make righteous for me my offspring. Indeed, I have repented to You, and indeed, I am of the Muslims." The Holy Quran: Chapter 46 Verse 15
About Dr Zam
Dr Zam is a multi-award-winning polymath, educator, motivational speaker, human peak performance researcher, entrepreneur, social activist, life master coach, author of best-selling books, people developer and lifelong learner. He has embarked several world-class doctoral studies in diverse fields such as social sciences and education, information technology, computer science and engineering, and because of his ground-breaking work, he has developed cutting-edge innovations that bring about impactful changes to tens of thousands of people in different industries. His latest endeavour is to revolutionise learning with Artificial Intelligence. His renowned Dr Zam's Academy helps anyone to achieve success for any desired goal, as he deeply believes Everyone Can Succeed.
Description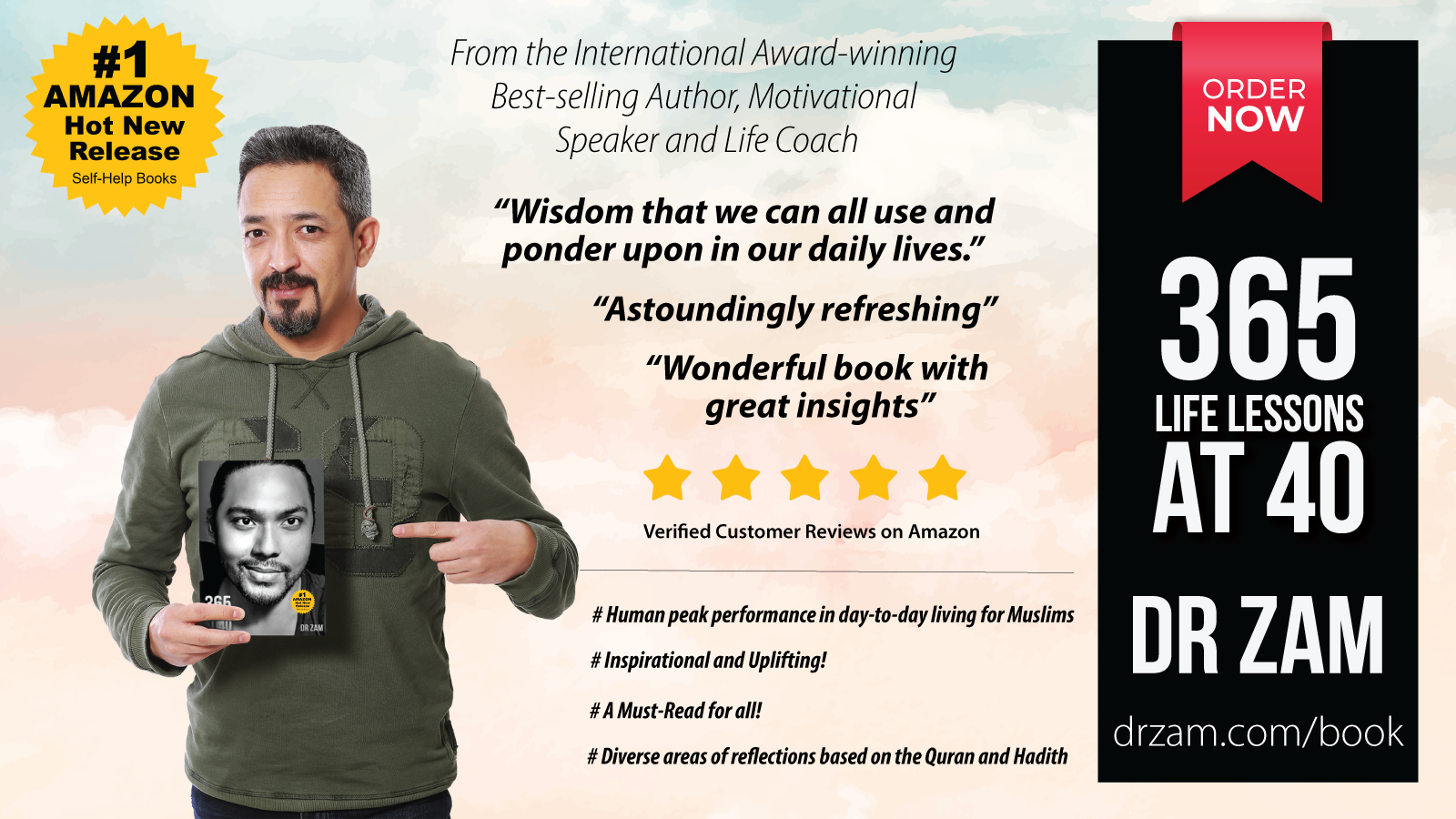 Additional information
| | |
| --- | --- |
| Weight | 1000 g |
| Dimensions | 18 × 13 × 3 cm |